Hi guys! As some of you may or may not know, I attend a pretty rigorous STEM high school, so along with my interest in the Liberal Arts, I also am passionate about science, too. Naturally, I love it when books have some form of science in them, whether or not that be a main character who has an interest in STEM, or if the book is sci-fi, or even if the book is non-fiction.
Today, I wanted to share with you guys some books I've read (or want to read) that I know have some scientific influences. I hope you enjoy!
The Martian by Andy Weir is easily the most science-influenced books I've ever read, so I think it deserves a place on this list. Not only is it really intriguing, but the main character is so funny and you won't get bored, even if the science doesn't make sense at times.
The next book on this list is Cradle to Cradle: Remaking the Way We Make Things by William McDonough. This is a non-fiction book that piqued my interest because it is really relevant to our world right now; the synopsis is below:
"Cradle to Cradle: Remaking the Way We Make Things has garnered a reputation as the definitive work on eco-effectiveness since its publication in 2002. Described as an enlightening, imaginative, and accessible manifesto, Cradle to Cradle draws on William McDonough's work in sustainable architecture and design to develop new eco-intelligent philosophy, evolving from "cradle-to-grave" industry standards to "cradle-to-cradle" practices. As relevant and important as it was fifteen years ago, McDonough and Braungart's text marks a trail for industries looking to engage with new and innovative environmental solutions now more than ever before."
I haven't read it yet, but I definitely want to pick it up, especially considering current environmental issues like global warming and reusable, renewable energy sources.
A book I've been wanting to read for over three years now is These Broken Stars by Amie Kaufman and Meagan Spooner. I don't know much about it, except that it's set in outer space, and most people really enjoy this series. Also, the cover: *hearty eyes*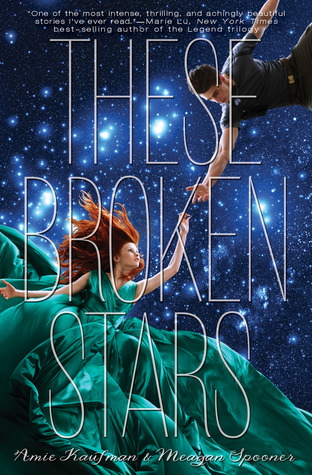 The Fifth Wave by Rick Yancey is one of my favorite books that I read back in middle school, and although it's not necessarily set in stone "science fiction", it has aliens and is an awesome apocalyptic story. I haven't read the last book yet, but when I first them, I fell in love with everything about the books. ❤
My Heart and Other Black Holes by Jasmine Warga is definitely not considered science fiction, but I wanted to include it because I love it and because the main character, Aysel, is a physics nerd. It's not that influenced by science, but lots of her thoughts are influenced by her love for physics, which I thought was a unique trait for a YA contemporary.
Warcross by Marie Lu is by far one of the books I'm most anticipated for, and it's coming out pretty soon so that's great. Most people know about it and based on the reviews I've heard of the ARC, it sounds AMAZING. I'm so so excited! (I think it's supposed to science fiction-ish in the near future).
The last book of this short list is Invictus by Ryan Graudin–a book that's also to be released. I recently read Ryan Graudin's Wolf by Wolf and LOVED it, so I'm excited to see what her science-fiction book will be like. (Plus it's about history too!!)
…and, that's it for this post! I hope you enjoyed reading it & if you have any recommendations, please let me know!
//      //      //       //     //
my social medias: // goodreads // studygram // tumblr // questions? contact me: aloofbooks@gmail.com