Hi everyone! I saw this tag on Instagram and I wanted to do it because it seemed short and fun–I'm not sure who the creator is but here we go!
Monday // A book you're too lazy to read–Honestly any classic; because they kind of scare me since the writing is usually much harder to read or understand. Also, Dreams of Gods and Monsters by Laini Taylor despite the fact that I actually loved the first two. I just know it's super long and it's intimidating me!
Tuesday // A book that's hard to read–I want to go ahead and say The Kite Runner by Khaled Hosseini. Some scenes were super gritty and tough to get through because of the characters, although this is an amazing book.
Wednesday // A book you didn't finish–I tried reading The Promise of Amazing by Robin Constantine over two years ago and I absolutely despised it. The instalove was so bad that I just…couldn't.
Thursday // A book you wouldn't recommend–Wink Poppy Midnight by April Genevieve Tucholke. I know. That cover is beautiful, right?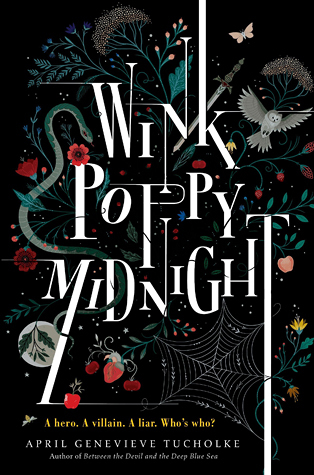 It just promises something good. Unfortunately, I was very disappointed. Don't let the cover fool you–you can learn more about why I thought this wasn't good here.
Friday // Anticipated book releases–omg, there's so many? The Becoming of Noah Shaw, Here We Are Now by Jasmine Warga, and The Girl With the Red Balloon by Katherine Locke are just three I haven't spoken much about but I am very excited for to come out!
Saturday // A book you've reread–I always have the same answer for this, because it's basically the only book (series) I've reread, and that's Percy Jackson. I reread it so many times when I was in fourth grade.
Sunday // A book you didn't want to end–And I Darken by Kiersten White. This book guys. This book. I need to get my hands on the sequel ASAP, but I loved it sososo much.
I hope you enjoyed reading this short little post! Thanks for reading!
//      //      //       //     //
my social medias: // goodreads // studygram // tumblr // questions? contact me: aloofbooks@gmail.com