Windwitch by Susan Dennard is the second book in the Witchlands series. Last summer I read Truthwitch and had enjoyed it very much so I was partially hesitant about reading this one. Luckily, I loved it just as much as the first book.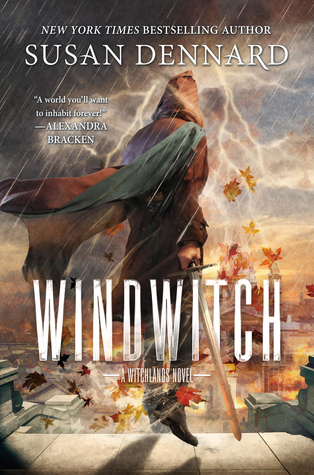 This review will be spoiler-free for both books in the series, so feel free to read it (and learn why you should read this series too!)
Maybe for the first 70 pages or so, I couldn't quite get into the story. This series has probably the most complex world I have ever read from, so I had forgotten a lot of the terminology, magic, and plot of the previous book. Thankfully, I got a hang of it once again and started enjoying it even more.
This book focuses on Merik–and I love Merik. Whereas in the first book he is mostly seen as a love interest that is kind of bland (I still loved him, but this is what I hear are the opinions of other people as well), in Windwitch, his character is almostly completely transformed. Throughout the book he goes through one of the best character developments I've read in a while. (It's so great that the ending made me even happier). It doesn't really have as much romance, because the characters are separated, but I thought it was nice to take a break from this.
All of the characters, the new and old ones, are awesome, badass, and three-dimensional. They constantly question themselves, as anyone normal would do, and often times you can't really tell where the story is headed because they appear somewhat morally ambiguous (which I love).
On top of all the amazing characters and world, the plot was so well written. Susan Dennard cleverly switches between chapter to chapter from character to character so that you don't get bored reading the same story. Almost all of the time each chapter ends in a cliffhanger and so you want to keep reading. And of course, there are lots and lots of plot twists–and who wouldn't love plot twists?
Long story short, this series is probably my ideal high fantasy series and I urge everyone to pick them up. They deserve so much more recognition than they get! \
Have you read this series as well? Who's your favorite character? (Merik is my favorite, but I love all of them).
//      //      //       //     //
my social medias: // goodreads // studygram // tumblr // questions? contact me: aloofbooks@gmail.com