Hi everyone!
About a month ago, I started reading Wintersong, intrigued by it because I knew that it was about goblins and kidnapping, and now I'm happy to say I read it. Although, I didn't quite love it–I'm giving it around 3.5-3.75 stars–it was definitely enjoyable, so I hope you stick around to continue reading this review.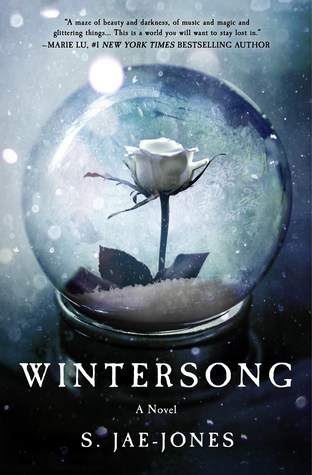 One thing I would like to point out is that you should definitely go into this book without knowing much. If you're aware that it is about goblins, and that it has really beautiful writing, I think you're set. What I realized while reading was that the synopsis given on the inside of the book as well as the one on Goodreads actually spoils part of the book. That is, I kept expecting the story to move forward more quickly, because what was happening was already given in the synopsis itself. It turned out, however, that the synopsis basically tells you what happens for at least a third of the book. So: if you want to be slightly more surprised, I recommend not reading a summary.
(This review will be spoiler-free).
Things I Liked:
As I mentioned already, I loved the writing. It was probably my favorite part of the book. It's flowy and nice-sounding and really sets the atmosphere of the book. The world is super interesting as well. You want to continue reading purely because of the fact that everything is so mysterious and dark. Literally: when I think of this book, I imagine the color scheme of the (beautiful) book cover–dark blue laced with shining silver.
Another aspect I really enjoyed was the character development. By the end of the novel, Elisabeth is basically entirely transformed. When we first meet her, she has no self-esteem, doesn't know what she's doing, is bitter and unsatisfied with her life. Throughout the novel, she finally finds herself and her music. I also really liked the fact that her music was such a central aspect of her story, as books often erase hobbies and passions for plotlines.
Things That Could Have Been Better
My biggest complaint for this book is that nothing happened. I could have skipped a good 100 pages, and I would have understood what was going on because that's how slow it was. I was expecting Elisabeth to do something besides stay weepy and mourn and lust, but she didn't, most of the time. And this is coming from a person who can usually read slow books–I just couldn't deal with it. It felt really repetitive at times, so much so that the romance got boring and even the beautiful writing didn't faze me. It felt like I was reading the same lines over and over again.
I also wish that the author had expanded the world of the novel. There was so much more to know! It could have been so much more adventurous and interesting if something had actually happened. Don't get me wrong: I usually enjoy character-driven books–I LOVE characters, even if the plot isn't amazing–but for a book that was supposed to be a fantasy, I was expecting a little more action. So many things went unexplained; and I assume that they will be elaborated on in Book 2, but still.
Overall, however, I did end up liking this book because it had a really different taste to it. I'm not really sure if I'll get to the second book, just because I don't know if I can deal with another super slow book in a long time now.
Have you read Wintersong? Did you enjoy it, or were you one of those that thought it was mediocre?
//      //      //       //     //
my social medias: // goodreads // studygram // tumblr // questions? contact me: aloofbooks@gmail.com