Hi everyone! I saw this book tag on Twirling Pages' blog (quiet possibly my favorite blog in the world), and it's so cute so I decided to do it.
1. Awkward first date: a book where something felt off. It wasn't a bad book, just lacked that spark for you.
For me this was definitely Illuminae by Amie Kaufman and Jay Kristoff. I expected so much from it, but it just didn't give me that "zing" that makes me like other books. It was a good book, just not amazing for me.
2. Cheap first date: A book that turned out less than you expected.
A Court of Wings and Ruin by Sarah J. Maas. The funny thing is, I loved the first couple hundred pages but after I continued reading, I realized I didn't actually like it that much. (Sadly). I do love some of Sarah's books, but this was one I ultimately ended up feeling "meh" about–it was kind of…cheap.
3. Well prepared first date: A book that was better than you expected.
The Sun Is Also A Star by Nicola Yoon. I actually read Nicola's Everything, Everything as an ARC and it was kind of a "meh" book for me–so my standards weren't really that high for this one. Luckily, though, I ended up falling in love with her new book. It exceeded all my expectations!
4. Hot but dumb: a pretty book, but not so hot on the inside.
Wink Poppy Midnight by April Genevieve Tucholke. I have to say, I was initially really into this book because of the cover. I mean, yes, the synopsis sounded cool, but that cover?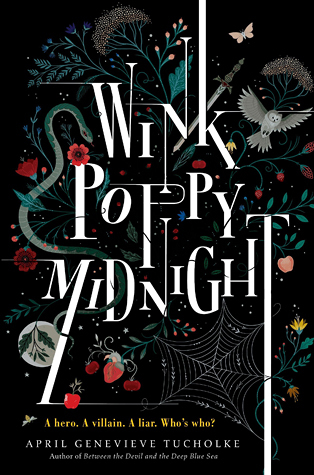 It's so nice. Too bad I thought the book was not so nice.
5. Blind date: A book you picked up not knowing anything about.
I just went back and went through, like, my whole Goodreads read shelf, but I couldn't see any books that I had absolutely no idea about the book before I read it. I can almost guarantee that I read the synopsis or read a review of a book before I actually read it, so…yea. No answer for this question!
6. Speed dating: A book you read super fast.
A Thousand Splendid Suns by Khaled Hosseini–I think I only mean to read a few chapters when I first sat down, but I ended up finishing the whole book within a few sittings. I surprised myself with this one.
7. The rebound: A book that you read too soon after a book hangover and it kind of ruined that book for you.
Probably The Crown by Kiera Cass. I had just finished And I Darken, which I of course had absolutely loved, so when I read this one, I just didn't like it as much. Also, I didn't think it was as good as the other books in this series anyway, but it does have something to do with the book I read before it.
8. Overly enthusiastic date: A book you felt was trying too hard.
Falling Kingdoms by Morgan Rhodes. Maybe because I read it way after the original publication date (which meant I had already read so many amazing fantasy series), I thought this was like a less good fantasy book. It didn't catch my interest as much, sadly, since I felt like I had already read the same plot line a million times already.
9. The perfect first date: A book that did everything right for you.
I feel like I shouldn't, but…And I Darken by Kiersten White. I read this over a year ago last year, and despite my expectations, I still loved it. Dark, gritty, slow-burning romance with kickass characters. What's not to like? (Plus, Ottoman setting, and a really diverse cast of characters!)
10. Humiliating first date: A book you're embarrassed to be seen reading in public/to say you like.
I don't really have any books like this? Mostly because what I read is generally what is considered "appropriate". At most it would be maybe My Life Next Door by Huntley Fitzpatrick, and this is not because of the content itself, but rather because the title and cover makes it seem like it's some stupid romance or erotica. (Which it's not).
11. BONUS! The second date: a sequel you are most excited to read. (This question was created @ Twirling Pages, and is not part of the original tag).
After all that talk about And I Darken, do you really expect me to say a book besides Now I Rise? (Of course it's Now I Rise. Duh.)
This tag was so much fun and I hope everyone does it, I'm so glad I found it! It's actually one of my favorite tags right now I think. Hope you enjoyed reading, and please let me know of your opinions as well!
//      //      //       //     //
my social medias: // goodreads // studygram // tumblr // questions? contact me: aloofbooks@gmail.com