Hellooooooooooooooo!!!
Sorry. That was a bit too extra. Let me try again.
Hi guys!! I've missed blogging so, so much. This month was probably one of the worst blogging months I've had in a long time–including this post, I've only put up three. I thought school was hard a few months ago? Hah. Ha. March has been SO crazy for me. AP tests are coming soon and I've been sleeping late and just…tired.
Anyway, today I decided to write about a book I'm super, super excited about, as the title tells you. I was looking at my old blog posts and was on Goodreads, trying to catch up with all the book news when…
I see this: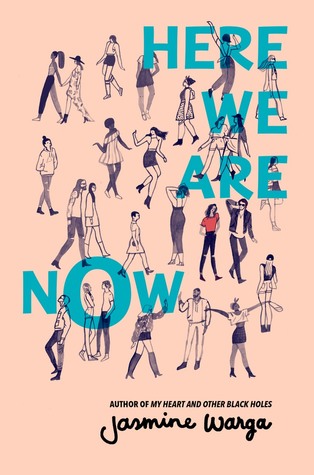 Now, in case you didn't know–Jasmine Warga is the author of My Heart and Other Black Holes, one of my favorite books ever. I read it around two years ago, and ever since, I have been waiting for Warga to put out another book. For so long I waited for some book news to come out, and it finally did. I love the adorable peach color of the cover and this is the synopsis:
Despite sending him letters ever since she was thirteen, Taliah Abdallat never thought she'd ever really meet Julian Oliver. But one day, while her mother is out of the country, the famed rock star from Staring Into the Abyss shows up on her doorstep. This makes sense – kinda – because Julian Oliver is Taliah's father, even though her mother would never admit it to her.
Julian asks if Taliah if she will drop everything and go with him to his hometown of Oak Falls, Indiana, to meet his father – her grandfather – who is nearing the end of his life. Taliah, torn between betraying her mother's trust and meeting the family she has never known, goes.
With her best friend Harlow by her side, Taliah embarks on a three-day journey to find out everything about her 'father' and her family. But Julian isn't the father Taliah always hoped for, and revelations about her mother's past are seriously shaking her foundation. Through all these new experiences, Taliah will have to find new ways to be true to herself, honoring her past and her future.
I'm literally so excited.
Not only is this about an Arab-American (I'm not Arab, but go Middle Eastern protagonists!) but it's by one of my favorite authors. It comes out November 7th of this year and I just CAN'T wait.
Have you guys heard about this book? Or read Warga's debut? (Please do; it's wonderful. This is the cover of MH&OBH)
I just hope that this one will be just as good!
---
On a side note, I am thinking of starting a series of blog posts that are somewhat short like this one about upcoming books that I am super, super excited about. What do you guys think? Please let me know!
//      //      //       //     //
my social medias: // goodreads // studygram // tumblr // questions? contact me: aloofbooks@gmail.com