The Sun is Also a Star by Nicola Yoon is one of those books where (as I talked about in my previous post) I was not expecting to love it. I read Everything, Everything as an ARC, and although I liked it, I definitely did not love it.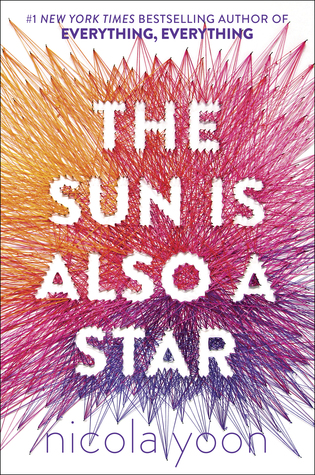 But, when I saw a brand new copy of this beautiful book in my school library just standing there [see: above], I decided I'd give it a shot and pick it up. My first reaction was how diverse this book was. Both main characters aren't white (one is Jamaican, and the other Korean-American) and the book deals with issues like racism and stereotypes, which I thought were done very well. (This a spoiler-free post.)
The other thing I noticed was how…readable it was. A lot of times I force myself–even if I'm enjoying it–to continue reading books. It's not that I don't like reading, but because I find I procrastinate if I don't motivate myself. This was one of the books where I didn't have to do this. Once I started reading, that's all I wanted to do.
It had everything I look for in a contemporary novel, and not only were the characters unique, but the book itself was unique too. It would switch POVS (but not in an annoying way) and go to someone else's perspective which just added so much more to the story. So, not only would you get the main characters' perspective, but also minor characters that influenced the story and the characters. On top of that, there were little chapters of "history" or "a story of ______" that again added perspective to why certain characters were acting in certain ways.
This book of course was not only about romance but about family and love in general. What even is love? Why do humans do certain things? What would happen if we didn't do certain things? And things like this. It made me think about things that are always in the back of my head but I don't actually question.
If I absolutely HAD to choose something bad about this book it would be–and not necessarily bad–to make the romance a little more slow paced. It did feel kind of insta-lovey, because the whole book took place in a single way, but there are reasons certain things happened which is why it really didn't bother me. It didn't have an instalovey feel because it felt like you know the characters for so much longer.
The characters! Oh god, the characters. ❤ I think this is getting a bit too long, and I don't want to give anything away. Again, you can totally read this without knowing anything so I think it's best if you just gave it a shot and hopefully fell in love with it like I did. 🙂
5 stars for this star of a book!
Have you read this book? Did you love it as much as I did? I hope so! Let's discuss!
//      //      //       //     //
my social medias: // goodreads // studygram // tumblr // questions? contact me: aloofbooks@gmail.com