Hey everyone! Today I wanted to talk about books I've been meaning to buy but haven't gotten around to yet–these are all published books, since I already talk about un-published books all the time. (Biggest reasons would be time and money). This is kind of like a wishlist for the holiday season, haha. I don't celebrate Christmas but to those of you who do: Merry Christmas!
*Note: this list is by no means all the books I want. I ALWAYS want more books–I had to narrow it down so this list wouldn't go forever!*
First up we have Ruin and Rising by Leigh Bardugo. I've been wanting to read this book for literally about three years, but I keep putting it off because I want to buy it first.
I also really want Nevernight by Jay Kristoff–I heard so many good things about it and it seems so good and that UK edition is so pretty I can't even. (SEE!)
Next up on my list is…Crooked Kingdom by Leigh Bardugo. I actually started reading this beauty–I read 300 pages–but then I had to give it back to the library so I never finished it. *cries* And of course I want to own it because it is BEAUTIFUL.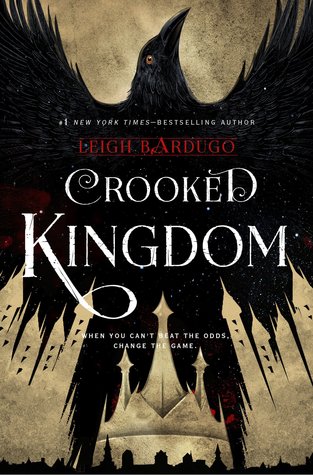 Then, I have Holding Up the Universe by Jennifer Niven. Back when All The Bright Places first came out, I was obsessed with it. I know that HUU isn't as popular, but I still want to buy it so I can have the pretty book on my shelf next to ATBP. (It's a struggle because my sister has a library copy right now and I want to read it but I know if I do I probably won't buy it…)
Of course, I can't forget about Kids of Appetite by David Arnold, which is also another contemporary by an author whose book I loved when it first came out. I'm super excited for this one and I can't wait to read it!!
*It's not letting me link the cover for some reason, so oh well.*
Next up I have Vicious by V.E. Schwab. I actually want to buy all of her books, so this is just a representative of them.
Then of course, A Torch Against the Night by Sabaa Tahir because I LOVED AEITA when it first came out. (Similar pattern here?) And the cover is soo pretty:
I would also love it if someone got me Illuminae by Amie Kaufman and Jay Kristoff since I've ALSO been wanting to read this wayyy before it came out…
And last but not least, The Sun is Also a Star by Nicola Yoon. 1) It's SO GORGEOUS AHHH and 2) I've heard a lot of great things about it and I really liked Nicola's first book!
Anyway, that's it for my wishlist type post! Hope you enjoyed reading this!
What books would you want as presents? Let's discuss!
//      //      //       //     //
my social medias: // goodreads // studygram // tumblr // questions? contact me: aloofbooks@gmail.com