Can you guys believe it? Its JULY. The seventh month of the year, which means we already went through six months. HALF THE YEAR PASSED OH MY GOODNESS. This also means…its time for a wrap-up, of half the year. First, I want to talk about my reading goals.
My goal this year is to read 35 books. I know, its a tiny number, but I'm struggling to do even this because of school. As of right now, I have read 14 books, and I am 3 books behind schedule. However, I plan on coming right back on track because its summer so let's just ignore that fact, shall we?
One thing I'd like to say is that, even though I read a very little amount of books, most of the books I read I gave 4 or 5 stars. This is not because I'm a terrible reviewer (I hope not!) or that I just mindlessly give five stars away, but rather because I choose what I think I will love. I don't pick up random books, or controversial books. I research before buying my books, and make sure I have heard a LOT of good opinions on them so I enjoy them. This is because I barely have any time and I don't want to waste my time reading bad books. Just wanted to let that out there.
This is also why although I rated some of these five stars, they aren't my favorites. In my eyes, my favorites deserve all the stars, so yea.
Anyways, here are all the books I read so far: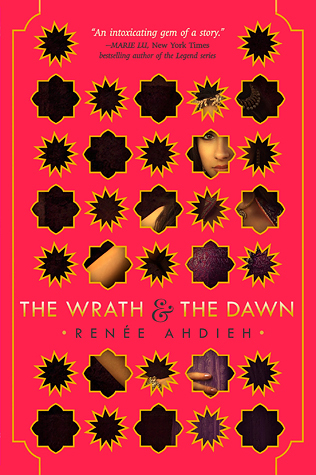 The Wrath and the Dawn by Renee Ahdieh–5 stars. I LOVED this book. I actually read most of it in 2015, but since I finished it in 2016 I'm counting it as one of the fourteen books I read this year. It was so beautifully written, and even though I have yet to read TRATD, its sequel, I can not wait.
The Martian by Andy Weir–4 stars. Review here. I'm a nerd. This book was nerdy. Hence, I ended up enjoying it
very much despite the fact that some parts were super long and scientific. The humor was amazing though.
Six of Crows by Leigh Bardugo–5 stars. I gushed about this book a lot, and for a reason. This is a really clever book. Because I have a long review I'm really proud of, I won't say anything else. Just click here.
Siege and Storm by Leigh Bardugo–4.5 stars. I loved this much more than its predecessor, Shadow and Bone. I still need to finish this series but I hope its as good as this sequel. You can find my full review here.
Passenger by Alexandra Bracken–3.5 ish stars. This was actually really good, but not necessarily my cup of tea. I think Alex's writing is too slow even for me. Though I enjoyed it, I think there are books that deserve more hype than this one. Here's my review!
Snow Like Ashes by Sara Raasch–4 stars. A really fun, unique fantasy read! Even though I didn't fall head over heels in love with this book, I certainly enjoyed reading it. You can find my full review here.
Lady Midnight by Cassandra Clare–ALL THE STARS IN THE UNIVERSE. I think this was my favorite of the year so far. Anyways, I'll be talking about this soon. [You can find my review here]
Ignite Me by Tahereh Mafi–3.75 or 4 stars. I was a bit disappointed in this book, sadly. Not because it was bad, but I guess everyone had hyped it up so much that I expected to be obsessed with it but then I ended up only…liking it, sadly. You can find my review for it here.
The Winner's Kiss by Marie Rutkoski–4 stars. I never ended up writing a review for this one, but like Ignite Me, this one was just a bit disappointing. It may be from the fact that I expected so much, or from the fact that I was so busy with school that I rarely had time to read it, but something was just MISSING and I can't give it the five stars that I wanted to.
The Raven King by Maggie Stiefvater–5 stars. I loved this book. When I first read it I was certain it would be in my favorite reads of the year, but I'm not sure yet. I do know that I loved it, but I only want to say "this book is my favorite" if it has stayed with me. So I'll wait a little longer before declaring this one a favorite book of mine. You can find my review here.
The Unexpected Everything by Morgan Matson–5 stars. Again: loved this book. When I first read it, it was the only thing I thought about. But again, I don't want to say its a favorite book of mine too early. You can read my review for it here. ❤
A Court of Mist and Fury by Sarah J. Maas–5 stars. Do I actually have to describe this book to you? I think everyone knows about it. Its like the biggest, most hyped book of the year–for a reason, of course.
The Night Circus by Erin Morgenstern–ALL THE STARS. I think this is another favorite of mine, so I'll describe it later.
And finally, Summer Days and Summer Nights by Stephanie Perkins–3.5 stars. I ended up disappointed in this one, but I still did enjoy it. My full review can be found here.
---
Okay, so now for my favorite reads…
This was definitely hard to pick, but I boiled it down to two books for half the year. The main way I chose this was for how the books stayed with me. If you didn't realize, books staying with me after I read them is one of the most important aspects of books for me. Even if I loved a book while I'm reading it–which happened with A LOT–of these books, if I close it and then don't think about it…I don't want to call it a favorite. My most favorite books are books that I think about randomly.
And those two books are…
This one is a no-brainer. Everyone knows about this book. Then, the second book is one I actually read less than a month ago, but I've been thinking about it nonstop ever since, so I think it very much deserves its place on here:
I thought this book was absolutely stunning. The writing, the metaphors, the meanings, the characters. I'll post a review for it soon, but yes. Definitely deserving of the word "favorite."
And that's it for this post! I hope you enjoyed! Which of the books you read so far are YOUR favorites? Please let me know!
//      //      //       //     //
my social medias: // goodreads // instagram // tumblr // questions? contact me: aloofbooks@gmail.com