You can check this book out on Goodreads here–and here's the cover: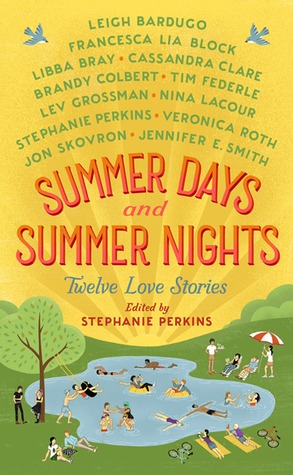 3.5 stars! Since this book had multiple stories in it, I'm going to talk about my feelings for each one individually. Some have higher ratings than 3.5, some have lower–I just think 3.5 stars is a good, average rating for the entirety of the book.
Before I got into this book, I was really excited because I expected it to be full of cute, summer-y reads that have to do with familial relationships as well. Unfortunately, I was disappointed in this aspect, which I'll get into later.
Head, Scales, Tongue, Tail by Leigh Bardugo–4.5 stars. This was one of my favorite stories in the book, and even though I can't describe it as "cute" I still loved it and honestly I could have read this as an actual book with a couple hundred pages. Leigh Bardugo somehow managed to add a plot twist in 40 pages, so wow.
Last Stand At The Cinegore by Libba Bray–4 stars. This was hilarious and so much fun. The horror aspect of it kind of felt like a joke, but hey, I think that was the point and plus I enjoyed it. 🙂
Sick Pleasure by Lia Block–2 stars? I skimmed, like, most of this. I feel like the author was trying to do something, but it just didn't work. I just ended up being confused and annoyed that I had spent time trying to understand what was going on.
In Ninety Minutes, Turn North by Stephanie Perkins–3 stars. I was really disappointed by this story. Not that it was bad, but I expected to love Stephanie Perkins' story and that didn't happen. I barely cared for the majority of it and I just couldn't connect to the character.
Inertia by Veronica Roth–3.5 stars. Oh god, this was depressing. I feel like I would have liked it so much more if I had known I was going to be reading something so gloomy and sad. Don't get me wrong, I enjoy such books but it really wasn't what I was looking for.
Love Is The Last Resort by Jon Skovron–3 stars. Fun and enjoyable, but I just didn't care. Also, it was kind of pointless.
Brand New Attraction by Cassandra Clare–4 stars. At first I was skeptical of this story because I wanted something else, but in the end I grew to really like it and plus, plot twists are always great. I actually think I would have liked this even more if it was a full book and I would have given it a much higher rating, haha.
A Thousand Ways This Could All Go Wrong by Jennifer E. Smith–4.5 stars. THIS was the type of story I was looking for! I thought the entire book would be this way: cute, but emotional as well. I loved the autism aspect of the story–it was so unique–and how it touched on important things as well. Its ironic because I didn't enjoy Jennifer's other book so much, but Ireally liked this story.
The Map of Tiny Perfect Things by Lev Grossman–5 stars. This was by far my favorite story in the book, and I would have given the entire book a lower rating if it weren't for this one. It was funny, relatable, cute, but also touched my heart. This was a perfect story and now I'm really intrigued in other books by Lev Grossman. Best one ❤
So yea! In the end, I'm happy I picked this up because otherwise I would have been curious about it. Although I was really disappointed by some stories, others I loved. Thanks for reading!
Which stories did YOU love and hate from this book? 
//      //      //       //     //
my social medias: // goodreads // instagram // tumblr // questions? contact me: aloofbooks@gmail.com