Some links you might want to check out: Amazon // Book Depository // Goodreads
The BEAUTIFUL cover: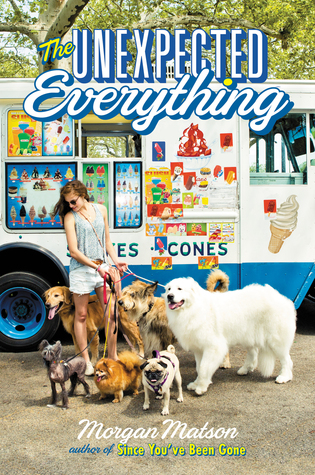 I don't know where to start. I loved this so freaking much. And I know this year I've basically loved like SO many of the books I've read, but this is the first contemporary I've read all year. And it was amazing.
Honestly though, it wasn't unexpected that I would like it. Morgan Matson is easily one of my favorite contemporary authors and I've read and loved every single book of hers. My only concern, however, before going into this book was being disappointed by it. But obviously, that didn't happen.
First, I want to talk about why I loved it so much, in the list of a why-you-should-read-this-book:
1. It is SO realistic. I will get to this later; since it's what I want to discuss the most. Its heartfelt and makes you connect with the characters that sometimes doesn't happen with a contemporary.
2. Awesome relationships that are actually REALISTIC. What I love about Matson's books is that there are relationships, and they're lovely, but most of all: they feel real. Not only was the romance (which was sososososo well written) A+ quality, but the relationships between Andie and her father and her friends also felt real.
3. It was cute and adorable and makes you want summer to come. However, the part that makes this cutesy novel different from other cutesy novels is this: it's cute, and great and giggly, but at the same time, it does not sugarcoat bad things as well.
One thing I've realized in contemporaries–even in some of my favorite books–is that they're adorable, and they have bad things happening in the books as well, but they're not as "real". As in, the friends fight, but they make up, and it's as if it wasn't a huge deal when it would actually be in real life. Or the parents have perfect relationships with their children. But you know what? That's not true. And Morgan Matson doesn't make her stories like that.
Andie has a really bad relationship with her father in the start. She's not close to him at all, she despises him, sometimes, even though she loves him. And honestly, that's how it is in real life. Same with her friends. Since I don't want to give anything away, I won't say anything, but I believe that Morgan once again created an actual portrayal of friendship. In a lot of books the best friends are always on good terms. I can say for sure that this is not true. A lot of times arguing with my friends or my best friend, well, it's depressing. And she showed that well. Life's not perfect.
You might argue with me that the situations aren't that realistic. And honestly, sometimes they weren't. I mean, you probably won't find the love of your life like Andie did with Clark when she went to dog-walk with him. But this is fiction. It's supposed to be like this. When I say a book is "realistic" I mean the characters and how they react to certain situations is realistic. If Andie was a perfect adult and acted calmly to all the situations, this book wouldn't be as amazing as it is, because it wouldn't be R E A L I S T I C. I don't know how many times I can say it.
That brings me to the character development. IT WAS SO WELL DONE. At the end of the book, I wanted to cry. Of course she wasn't this perfect character. But she changed so much. In the beginning of TUE, Andie was honestly not that much of a great character. By the end…she was still not perfect. But she grew from her mistakes.
That leads me more to how I felt reading from Andie's perspective. You can sayu she's annoying and childish and stuff but. In the end, I felt for her. I wanted to rip my hair out because of certain things she did, but then I paused. And I thought, what would I do in this situation. Honestly? I don't think I would do any better.
I think a lot of times in YA books, because the characters are so mature and they know so much, we expect them to not be whiny and not cry and be mean and terrible. While in real life, us teenagers, we're like that ourselves. Andie was an accurate portrayal of a teenager. Even though I will probably never be in her situation, I bet I would act like her.
Anyways, I realize this review has gotten a bit long. This was definitely a five stars worthy read, though. I think it ranks as my favorite(?) Morgan Matson book, or at least tying with Amy & Roger's Epic Detour which is one of my favorites. Thanks for reading!

Have YOU read TUE? How did you like it? PLEASE let me know!!
//      //      //       //     //
my social medias: // goodreads // instagram // tumblr // questions? contact me: aloofbooks@gmail.com