8:57, EST. March 23rd, 2016. Virginia. Silanur's house.
Silanur is sitting on the gray couch in the living room. Her legs are bent, a copy of Lady Midnight balanced on her knees. She's completely engrossed in her book, her face practically inside it. She devours every word, her heart and mind bursting with emotion. She turns the last page, and she closes the book. She just stares at the book for a few seconds.
Then she starts wailing. She walks back to her room, cradling the book, crying, "Why, why, why, why!" over and over again. Her sister looks up at her, unfazed, probably used to her emotions after reading a Cassandra Clare book. "I'm crying..why, Cassie, why?!" She mumbles to herself. Her sister tells her she won't ask what happened because otherwise Silanur won't stop talking. Which is true.
Silanur does not know what to do. Her heart is broken. But she is completely in love. She decides on writing this. She wants to cry.
I am completely honest about this though. My heart is seriously broken, and I haven't been this emotionally invested in a story or characters in such a long time. This is literally one of the best books I've read in my entire life, and floors everything I have read in the past six months, at least. Reading Lady Midnight reminded me of my love for books, of my love for YA, of my love for Cassandra Clare and the Shadow world. It reminded me why I'm obsessed with her characters in the first place.
As I said, I haven't been this engrossed in a story for such a long time. Yes, I've read pretty amazing books, like Six of Crows. But even that book, which I thought I so dearly loved, is nothing compared to my love for this book. Even now I can tell that nothing will beat this book until the end of the year. Every second without it, I felt like reading it. I saw a dream when I was part of the Blackthorn family. I drew Julian, and I'm not even an artist. I. Am. OBSESSED.
This book made me so nostalgic. It reminded me of two years ago, when I first read City of Bones. It reminded me of my love for those characters and my love for The Infernal Devices. I fell in love with them all over again, but then I fell in love with new characters too. The entire Blackthorn family, Emma and Julian…I am completely obsessed with them. I wish I was part of their family. Sure, some people might hate Cassie. But I really don't care. I love her books so much. No other authors' books, besides maybe Rick Riordan, make me feel this way. I literally feel hollow because I finished reading this book.
The plot twists, the entire story, the mystery, the writing, the characters. Everything. Once again, Cassie leaves me in shock. And this time, much more because the story was even more well thought of, and it is obvious how much Cassie grew as an author. I am shaking, literally, out of excitement. I have no idea how I am going to make it through and wait for the next book. I have no idea how I'm going to be able to love a book after this one. Dear next book I read, I'm sorry. It is just not possible for me to love you because of this amazing book.
I fell in love with everyone. Especially with Julian. I don't want to go around gushing about him, but let's be honest I am completely head over heels in love with him. I think he made it to the spot of Will Herondale. That's a big feat. For once, he was like a human. All of these characters, they were flawed. They weren't the "Chosen One." They freaking worked their butts off to be able to become what they were. And Julian is the most selfless person I've read about. He took so much weight on his shoulders for the sake of his siblings.
Emma, on the other hand, is just an amazing heroine. I love her so much. And she is just as selfless, in my opinion. I don't want to discuss spoilers right now, just because I'm much too emotionally burdened. But what I can say is that these characters will be death of me. I will die because of them. I…can't. I'm actually at a loss for words. This hasn't happened in such a long time. I haven't loved a book this much for such a long time that my heart can't take it.
I'm so…happy. I wish Cassandra would see this, just because I love her books so much and I want her to know how appreciated she is. I want to give everything for the next book. I'm so screwed. How am I gonna do this. How am I going to wait.
I am obsessed. Call me crazy. I don't even care. All I know is that this book is too amazing for me, and if you don't agree with me, then well. Leave.
[Again. I feel so emotional and I don't want to repeat the same things over and over again. But I loved this so much.] MINOR SPOILER [I don't know how I'm going to survive with Emma and Julian not being together. I don't know. I can't. And Kit. Damn. I was not expecting that. (hide spoiler)]
One last request. I want a Julian Blackthorn.
And that is my review for Lady Midnight. IF YOU HAVEN'T READ IT, WHAT ARE YOU DOING? GO AND READ IT NOW. Since I forgot to add the links, let me do it now. Here's the Goodreads, and here's the cover: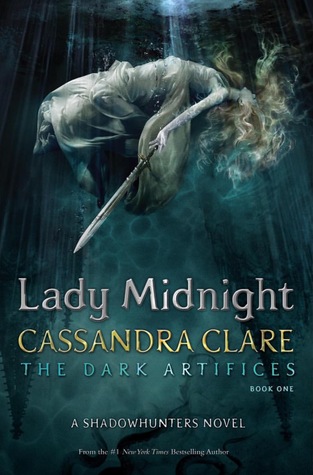 I would never give this book anything less than all of the stars in the universe.
–Silanur ❤
my social medias: // goodreads // instagram // tumblr // questions? contact me: aloofbooks@gmail.com