Hey everyone! So as I said in my last post, I finally finished reading Snow Like Ashes and as soon as I did I quickly wrote up a review on Goodreads last night. Anyways, here it is: (I rated it four out of five stars.)
You can click here to go to the Goodreads page, and here's the cover: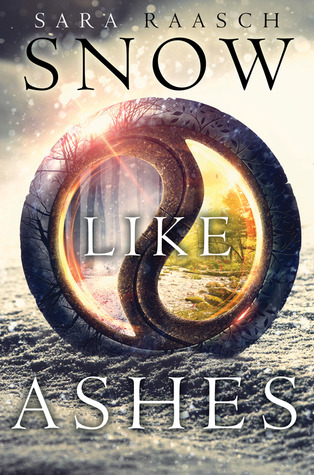 Yay, finally finished this! And even though it took me a while to read, I actually LOVED this book.
First off, let's start with what this book is about: the concept is quite possibly one of the most unique fantasy worlds I've read of. You probably already know, but let me tell you again: in Snow Like Ashes, the world is split into kingdoms of Seasons and Rhythm. The Seasons have Winter, Summer, Spring, and Autumn. Winter has been taken over by Spring and there are around 20 Winterian refugees that are trying to rebuild Winter.
Meira, our awesome main character, is one of the Winterian refugees. For all of her life, she has been trying to prove herself to Sir, her mentour/leader, and she's also been in love with her best friend and Winterian king-to-be, Mather. Basically: stuff happens. Shit goes down. Awesomeness happens. Plot twists occur. (Sorry, I suck at summaries. But seriously. This book kicks ass. You should read it.)
Now let's talk about what I enjoyed.
Meira. Okay, I am total Meira trash now. I love her so much. She's strong and bold, but she's also human. She has flaws. She's not one of those fictional characters who doesn't underestimate herself. She underestimates herself, which is only normal. Then, of course, her character development.
Guys, when I say the character development in this book is awesome, I mean it. It's one of the best character development stories I've read in a while. What I loved was, although I think Sara did make Meira whinier in the beginning on purpose, I believe just as Meira grew, Sara grew as an author as the story progressed. Why? Well for one, the story REALLY got better in the last 100 pages. And Meira was SO amazing. And I don't know if I'm just making things up, but I thought the writing got much better too.
In the beginning of the book, the writing is okay. I mean, it's not bad, but not too special. Nearing the end, there are so many beautiful quotes, I want to repeat them all day. You can tell this is a debut book, because there are flaws, but in a good way. Sara really developed her story later on, and it shines. (This is one of the best debuts I've read in a while, too. Even though it was published almost two years ago.)
Other things I enjoyed: plot twists, those awesome quotes, the plot itself…almost everything.
The one thing I do have to complain about is the love triangle I feel approaching. I'm fine with both, to be honest, but I don't like Mather so much. He only realized he liked Meira after it was decided Meira was going off to marry Theron. So I'm Team Theron, haha. My only problem is that I'm afraid there's going to be a lot of angst in the next book, and I generally don't enjoy angst in fantasy books–especially about love triangles with love interests I'm not too interested in reading about.
All in all, though, this book was great. I highly recommend it if you want a refreshing fantasy read! (Plus, the cover. And the author. I met Sara and she is sooo sweet.)
Let's end this book with this amazing quote, (note: spoiler)
One frozen speck of snow. Then another, and another, and before I know it the roads will be covered in dozens of distinct flakes. All these little pieces combining to create one giant, volatile snowstorm, something beautiful and dangerous and epic.

I'm Hannah's daughter. I'm Winter's conduit. I'm a warrior, a soldier, a lady, a queen, and most of all, as I plunge across the snowfield toward Jannuari's silent ruin, I'm Meira.
You go, girl.
Have you read Snow Like Ashes? How did you like it? Let me know!
–Silanur ❤
my social medias: // goodreads // instagram // tumblr // questions? contact me: aloofbooks@gmail.com