Hey everyone! So I know today's TTT (which is a weekly meme created by the Broke and the Bookish) is actually Top Ten Favorite Books of 2015, but I decided I wanted to leave that post to the actual end of the year. That's why, instead of that, this post I'll be writing about 10 books that I would love to own!
I'll just be showing a picture of the book I want, and then write a quick sentence (or two) on why I want it, since I'm running short on time! (As always.)
Falling Kingdoms by Morgan Rhodes
Why? It sounds amazing, looks amazing, everyone says it's amazing, and I NEED to get on this bandwagon!
2. A Darker Shade of Magic by V. E. Schwab
Why? V. E. Schwab is easily one of my favorite authors, and I know I'm going to love this book too. I JUST NEED IT IN HARDCOVER THOUGH AND I DON'T HAVE ENOUGH MONEY! *cries*
3. Vicious by V. E. Schwab
Why? SAME REASONS AS ABOVE.
4. Illuminae by Amie Kaufman and Jay Kristoff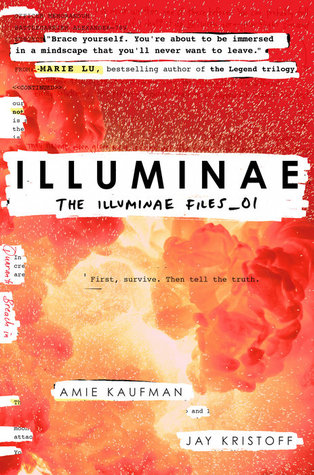 Why? This book has gotten SO much hype, and it's beautiful, too…need I explain more?
5. Snow Like Ashes by Sara Raasch
Why? Awesome cover? Check. Great reviews? Check. YA high fantasy? Check.
6. The Murder Complex by Lindsay Cummings
Why? This has been on my TBR for SO long, and Allison (@AllisonTheReader) loves it so I want to read it too!
7. Vengeance Road by Erin Bowman
Why? Okay, I'll be honest with you. A HUGE reason I want to buy this is because of the cover. I mean LOOK at it. It's so beautiful! But also because a lot of people raved about it too. 🙂
8. The Knife of Never Letting Go by Patrick Ness
Why? It just really intrigues me and I want to read it. 😀
9. Isla and the Happily Ever After by Stephanie Perkins
Why? It's literally been a year and a half since I read Lola, and the only reason I haven't yet read this is because I couldn't buy it. OTHERWISE I'M DYING TO READ IT. ❤
10. The Heart of Betrayal by Mary E. Pearson
Why? I really enjoyed The Kiss of Deception when I read it about a month ago, and I've heard that the sequel is even better. Plus, cover love.
And…that's it! Those are my top 10 books that I would love to have! I know this wasn't the best post, due to the fact that I'm scrambling to write this quickly, but I hope you liked it!
What are some of YOUR book wishlists? Let me know! 🙂
–Silanur ❤
my social medias: // goodreads // instagram // tumblr // questions? contact me: aloofbooks@gmail.com