Hey guys! So I apologize so much for not being active the past 10 days. I really have no excuse as to why I haven't been blogging. I just didn't feel like it and I didn't force myself. Anyways, yesterday I finished reading A Court of Thorns and Roses by Sarah J. Maas and this is the review I wrote! Hope you enjoy!
(Click on the cover to be led to the Goodreads page)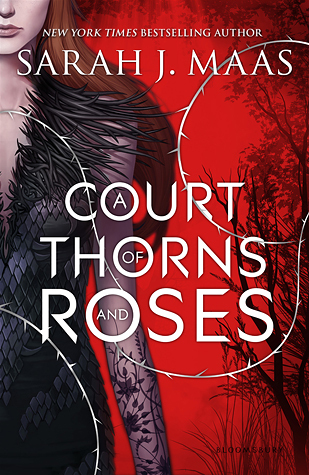 A Court of Thorns and Roses is delicious. Its like a dessert in the form of a book. First you nibble a little part of your dessert; you read a small part of this book. It tastes sweet and perfect, and its addicting, too. You want to continue eating (reading) and so you do. As you continue to eat, surprising little things pop up inside of your dessert and they tasteso good that you moan. (See the romance in this book) You lick your lips for more and get another bite (and continue reading.) You savor each and every flavor (letter) of the dessert, and before you know it, you only have one bite (page) left!
You want to take your time eating that last bite, because afterwards you know you are going to wait a long time to get another dessert (or the continuation of this series) but its just so delicious that you can't, and you gobble it all up. Then you lick your lips in satisfaction, because you're thinking, "Damn, that was effing awesome."
Yea, this book was a dessert for me. I loved it. The plot, the romance that was a little steamier than YA but not that much to make me feel uncomfortable, the characters, and the oh-so-wonderful character development. I am very interested to see what happens in the sequel and what Sarah J. Maas manages to write this time.
New favorite of mine. Go and read it. Hope you enjoyed this weird formatted sort-of-review.
5 STARS OR MORE. ALL OF THEM. ALL THE STARS.
//      //      //       //     //
my social medias: // goodreads // instagram // email: infinitebooooks@gmail.com
some recent posts:
~ An Ember In The Ashes by Sabaa Tahir || Spoiler-free Review
~ Top Ten Tuesday of May 26, 2015
~ The Fill In Boyfriend by Kasie West || Short Thoughts
check out some of my other reviews, on my review archives.