Hi guys! So here is my Musing Monday for today.
Musing Mondays is a weekly meme that asks you to choose one of the following prompts to answer:
I'm currently reading…
Up next I think I'll read…
I bought the following book(s) in the past week…
I'm super excited to tell you about (book/author/bookish-news)…
I'm really upset by (book/author/bookish-news)…
I can't wait to get a copy of…
I wish I could read ___, but…
I blogged about ____ this past week…
It was created  by A Daily Rhythm, and you can check the real link here.
And…I'm super excited to tell you about a free book by one of my favorite authors–The Dead List by Jennifer L. Armentrout. Its a YA horror/thriller/romance, and here is the summary from Goodreads: (It was announced five days ago)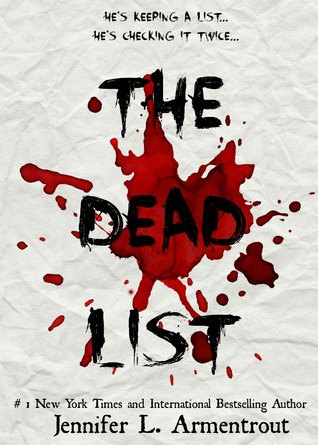 From Jennifer L. Armentrout's blog posted on April 15, 2015:

"The Dead List is a full standalone novel, coming in at roughly 93,000 words. It's a Young Adult Romantic Suspense Yes. Lots of Romance. Sort of like Don't Look Back, but a throwback to movies like Scream and the sort of campy fun ones. Think I Know What You Did Last Summer meets Scream. But with more romance.

That's all I'm going to say about the book. I think a blind read is something different. A little fun.

There are no plans at this time to sell it or put it in print soon. I probably will one day, but the point of this is that it's free for you guys.

The Dead List is a raw novel, meaning it hasn't been through copy editing. You'll going to see typos and some strange things. You're actually going to see what a book of mine looks like before copy editors get their hands on it. Hopefully there are no random 'shits' where there is supposed to be 'shirts'.

I will be posting a chapter or a couple of chapters at a time, as one does on Wattpad. Chapters will be added every Wednesday, Friday and then Sunday as long as I'm not traveling or, you know, acts of God clause.

You can find me on Wattpad by going HERE
– You can download Wattpad on your phone or tablet
– Or read on your computer"

Read the full blog post regarding The Dead List HERE
That pretty much explains everything. I'm pretty sure its going to be awesome, since its Jennifer L. Armentrout. 🙂 Can't wait to read it!
THIS WEEK'S RANDOM QUESTION: Do you use your local library? What do you like (or dislike) most about it?
…And for the random question: Yes, I do use my local library. I know a lot of booknerds don't, since they have their own personal libraries, but I don't. Since I don't earn my own money, I can only buy so many books, which is why I use the library so much. I guess you can say I like my library, but I don't really have specific feelings towards it. I mean, I love all places that holds books. 😉
Alright guys, that's it for today's meme! Let me know what you're Musing Monday is for today in the comments!
–Silanur ❤